News and Political links
Government Watchdogs
Media Watchdogs
United States Submarine Service Links
On the Lighter Side
What's Wrong with Social Security?
by Donald A. Tevault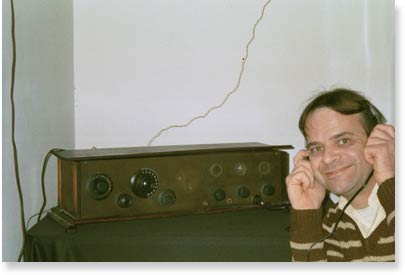 A few years ago, Alan Greenspan shook up the major news media with his testimony to Congress about the health of the Social Security system. Headlines screamed, "Greenspan says that Social Security benefits must be cut!" Well, duh. This isn't news, and reasonable people have been saying for years that Social Security needs to be reformed, or else it won't be there when the current generation of youngsters finally needs it. Social Security is, after all, the ultimate Ponzi Scheme. It's not a "trust fund"; it's not an investment vehicle; it's not even retirement "insurance". Rather, it's an intergenerational wealth transfer system. Money is forcefully confiscated from a younger, working generation, and given to an older, retired generation. In order for it to work, there have to be many more workers than retirees. But, since older people are now living longer, and younger people are having fewer children, the ratio of workers to retirees must necessarily decline. That means that--in order to sustain the current Social Security system--either benefits must be cut, the retirement age must be raised, and/or Social Security taxes must be increased. Any of these solutions would effectively cut the already low rate of return on workers' Social Security "investment".
Even from the beginning, there was a lot to hate about the whole Social Security idea. According to Jim Powell, author of FDR's Folly: How Roosevelt and His New Deal Prolonged the Great Depression, Social Security actually did much more harm than good. The only reason it was necessary, writes Powell, is because of a problem that was brought on by government mismanagement. The Great Depression was caused by Federal Reserve monetary policies that first pumped up the stock market, and then disastrously deflated it. In turn, this caused many people to lose their jobs--along with their private, company-sponsored pension plans. Even people who still had jobs were affected, as they saw their pension plans substantially pared back. The Federal Reserve could have changed their policy to help bring the country out of the depression, but at the time, nobody seemed to understand their role in having caused it. Instead, the Hoover, and later the Roosevelt administrations tried all kinds of "voodoo" economics ideas that were to bring the country back to prosperity. For the most part, these ideas were Socialist in nature, and had no grounding in sound economic theory. Social Security was only one of these ideas.
There are several problems with Social Security. (That is, besides the fact that there is no Constitutional authority for the Federal Government to set up a universal retirement system for its citizenry.)
First, as mentioned above, the system is unsustainable over the long term. As older generations live longer, and younger generations have fewer children to enter the workforce, the ratio of workers to retirees will decline. This means that there will be fewer working people to support the retirees.
Social Security helped to increase unemployment during the Great Depression. Anytime taxes are raised, it takes money away from the consumers and investors who could most help the economy. In addition to the taxes imposed on individuals, employers also had to make a matching payment for every employee. When the costs of employing people are raised without a corresponding rise in business, employers have no choice but to cut back on the number of employees.
It's an infringement of our economic liberty. For example, I don't want to participate in Social Security. I would rather take the money that I have to pay into the Social Security system and invest it as I see fit. But, I can't do that. If I refuse to pay my share of Social Security taxes, I will be fined and thrown into jail.
The rate of return is lower than what could be obtained with private investments. For the generation now being born, the rate of return could even go into the negative. In other words, they'll pay more into the system than they'll ever get back out of it. (Sure there's some risk involved with private investments. Over time though, the market's rate of return is quite good. Besides, the risk would be lessened if the Federal Government would learn not to interfere with the economy.)
Even though it's really a welfare program disguised as a retirement program, there's no means testing. Lower income people have to pay Social Security taxes so that millionaires can also receive their monthly Social Security check.
It convinces many people that they don't have to take responsibility for their own financial affairs. Those who do want to take responsibility have less money to do so, after paying Social Security taxes.
It's a political football. According to Jim Powell, FDR deliberately politicized Social Security so that it would be almost impossible to ever repeal. Even today, it's used as a vote-buying scheme by both of the major political parties. Anytime any politician mentions anything about needed reform, the opposing politician will scream, "Don't vote for him! He wants to take away your Social Security!"
It's a scam. When FDR and his cronies set up the Social Security system, what was the average life-expectancy of an Amerian male? Try 58. What was the minimum age that was set for a person to receive Social Security payments? That answer would be, 65. So one has to wonder, did FDR ever mean for anyone to actually receive Social Security, or was it just a scam to get more money into government coffers? Even today, any excess Social Security money that's not paid out to retirees just goes into the general government coffers, and gets spent on useless government programs.
So, are these enough reasons to repeal Social Security, or do you want more? Understand, I don't advocate a "cold turkey" kind of Social Security elimination. I understand that there are a lot of older people who have based their hopes and plans on the promise of receiving Social Security; it's not their fault that the government made these promises. But, I'm sure, there must be a way to protect these people while phasing out a corrupt, inefficient system. A good start would be to repeal all taxation on investments, and let current workers decide on how to invest for their own retirement.
---
  © 2010Truth In News Press